Return to Headlines
Learning, Flavor and Nutrition Go Hand in Hand
Taco Pizza, Cherry Blossom Chicken and Gourmet Mac & Cheese are just a few of the dishes students will enjoy when they choose to eat their meals in Charlotte-Mecklenburg Schools cafeterias. Our School Nutrition staff will be introducing new selections this fall – and bringing back favorites – that burst with flavor but still meet menu guidelines from the U.S. Department of Agriculture.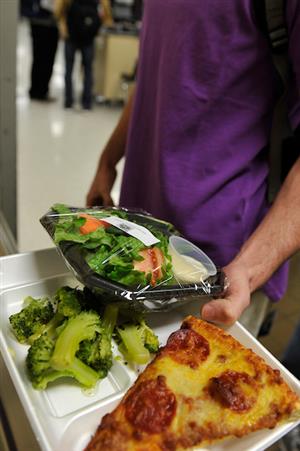 Healthy meals are an important step in ensuring academic success. Research shows that students with good nutrition have better grades, improved memory and fewer absences, while developing eating habits that will benefit them throughout their lives.
Plan now to take advantage of these wholesome, affordable meal options. An online application process is available for families with students who want to be considered for free or reduced-price lunches and do not attend a Community Eligible Provision school. (See the list of CEP schools.)
To start the meal application process:
Print or download the 2023-24 meal application packet. For a paper application, call School Nutrition Services at 980-343-6041.
Only one application needs to be completed per household.
Once the application is submitted, an email notification will be sent within 10 working days to the email address listed on the application. It will include the eligibility determination.
This application process is fast, secure and trackable.
For students who attend CEP schools:
All students attending CEP schools are provided a healthy breakfast and lunch at no charge to the student.
Families do not need to complete a meal application if all students in their household attend a CEP school.
The number of CEP schools has increased from 68 to 111 schools for the 2023-24 school year.
Charlotte-Mecklenburg Schools has participated in the CEP program since it began in the 2014-15 school year.
Upcoming school menus will be listed on the NutriSlice digital platform.