Return to Headlines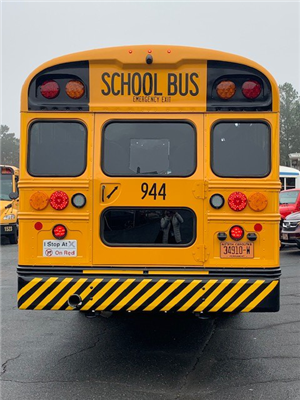 Transporting students in a safe and timely manner is a top priority for Charlotte-Mecklenburg Schools. Families with students who ride a school bus should now be on the lookout for their bus information. Mailers were recently sent, and bus information is also included in back-to-school packets being sent from each school.
Once buses begin to roll, families can simplify their morning and afternoon routines by using the Here Comes the Bus app, a free bus tracking system.
Download the app to have access to the real-time location of your student's bus on a map, as well as its scheduled and actual arrival times at the assigned stop and school. Here Comes the Bus uses GPS data and an easy-to-use, customizable map that works on computers, tablets and smartphones. Families can also receive text or email notification alerts to help their students get to the bus stop on time.
To sign up for Here Comes the Bus:
Use the district code, 73877.

Use your student's identification number. You must have this unique ID to set up the app. To get this number, you must contact the school.
Download the Here Comes the Bus app from the App Store or Google Play for your smartphone or tablet.
Tips:
Enter your student's last name exactly as it appears on their report cards, bus stop information, etc. Include any hyphens in their name, and only enter the first fourteen characters of their last name.

Draw the radius around the bus stop associated with your student for morning and afternoon bus service. The app does not track after-school, athletics or any other transportation the district provides.

No bus tracking service is 100% accurate. If you do not receive an app notification, do not assume the bus isn't coming. If in doubt about the arrival of a bus, please call the transportation area that supports your school.

Bus substitutions are sometimes made. These can affect the accuracy of the Here Comes the Bus app.
For additional information regarding our Transportation Services, visit https://www.cmsk12.org/buses, call 980-343-6715 or go to our pages on Twitter and Facebook.