Return to Headlines
Celebrate National School Counseling Week, Feb. 6-10
School counselors have been serving students for more than 100 years, and the scope of their work has evolved to meet student needs and influence school culture. No longer a "guidance" counselor who may focus more on vocational needs, school counselors look at the whole – academic success, social-emotional development and college and career readiness – and develop and implement data-driven, comprehensive programs to support students in those areas.
"School counselors impact the whole school," said Tuere Dunton-Forbes, CMS middle school counseling manager. "We look at all the data, including attendance and grades, and we're looking at a full picture in determining what the students' needs are – not just in crisis, but at a preventive level as well."
Charlotte-Mecklenburg Schools has nearly 450 school counselors, with at least one counselor at every school, and will celebrate them Feb. 6-10 during National School Counseling Week. The annual event highlights counselor contributions and the impact they have on student success. On Feb. 6, CMS also named three School Counselors of the Year (elementary, middle/K-8 and high), surprising them at their respective schools.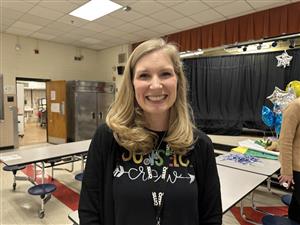 Lindsay Natoli, school counselor at Starmount Academy of Excellence, was named the 2023 CMS Elementary School Counselor of the Year. She said she aims to make a positive impact in the lives of the students she works with and hopefully make a difference.
One of Natoli's strongest qualities is her ability to build relationships across the board – with students, teachers, parents, administrators and members of the community – to gain buy-in and promote change. This year, she started a Leadership Club at Starmount, which has been a hit and empowering for students. Natoli is an advocate for the work of school-based mental health agencies, which support students and increase their focus on learning, as well as for the social-emotional needs of English Learner students.
"I have always worked at schools with a high EL population and advocating for them and their needs is one of my passions," Natoli said. "My hope is to provide a supportive environment for them while they are in school."
Starmount Principal Kylene Collins said Natoli is a phenomenal counselor who is responsive to the needs of their students, staff and school.
"We have had several challenging situations arise this fall, and she has stepped up to the plate to address the needs," Collins said. "Starmount is so lucky to have Ms. Natoli as a school counselor."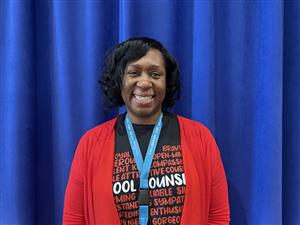 Angeline Walker leads the counseling team at South Academy of International Languages and was named the 2023 CMS Middle/K-8 School Counselor of the Year.
"My mission as a school counselor is to help all students embrace their inner strength and their inner well-being so that they can become the best global citizens they can be," Walker said.
Walker leads through advocacy and, especially over the last three years, has used data to identify marginalized or underserved subgroups of students at SAIL. Through analyzing data, she and her team have been able to plan, develop and execute activities to fill those gaps and provide equitable access to learning. Walker also collaborated with SAIL's school psychologist and another counselor to host a virtual parent workshop on child and adolescent anxiety. It was attended by 22 parents; 100% indicated they would use one or more tips from the session.
"Ms. Walker is the catalyst for many innovations that support students in their social-emotional learning and academic growth," said SAIL Principal Felicia Eybl. "She collaborated with the other members of the counseling team to collect the data, create the supporting narrative and submit the application that resulted in the school's counseling program receiving the Diamond Award."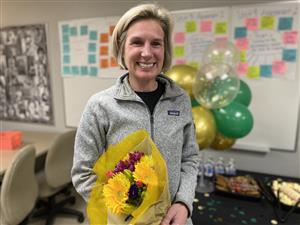 Lauri McDaniels, school counselor at Charlotte Engineering Early College, was named the 2023 CMS High School Counselor of the Year.
"As a school counselor, my mission is to support students, to meet them where they're at and to make sure they're achieving their goals and successes," McDaniels said. I feel blessed daily to be in this profession."
McDaniels has used her leadership experience to create systems and change the way "we've always done things," working with staff on student crisis response and being more visible in the school. She launched schoolwide buy-in for the Panorama survey and led the team in identifying the 7 Mindsets lessons that contribute to continued support of self-efficacy. With extra efforts in one semester, even without using 7 Mindsets, self-efficacy increased from 43% to 54%.
"Lauri is the best there is in the school counseling business," said CEEC Principal Will Leach. "She really cares about kids, she cares about our program, and we just felt like she was very deserving of this award. You're not going to find anybody better."