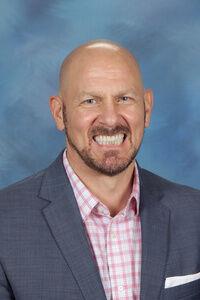 Phone:
Email:
Degrees and Certifications:
Mr.

Raymond Giovanelli

Dear Grand Oak Elementary School Families,

Grand Oak Elementary School is a suburban elementary school located in Huntersville, NC. The school, which was included in the 2007 bond request, was built to relieve overcrowding at Torrence Creek Elementary. A majority of the Grand Oak teachers today were formerly at Torrence Creek and most of our students are from the original boundary zone for Torrence Creek.

Grand Oak Elementary has 34 classroom teachers (core and specials); 20 have master's degrees and five are National Board-certified. We are in our eighth year as a Personalized Learning school. We are working on identifying new ways to better engage students by offering more academic choice through innovative scheduling.

Grand Oak became a Cambridge School in the 2018-2019 school year. We are a feeder school for Bradley Middle and Hopewell High. To learn more about our schools performance, please visit

https://ncreports.ondemand.sas.com/src/school?school=600558&year=2021&lng=en

for the most up to date state information.

Grand Oak has strong parent and community support and we believe strongly in a culture of caring and innovation. We focus on teaching students "bucket-filling" philosophies and the personalized learning traits of critical thinking, strong communication, collaboration, leadership, open-mindedness, risk-taking and self-direction. Our school also has a focus on student movement and flexible seating options to engage kids. We are very proud of what we have accomplished and we look forward to continuing to grow with our community. Each year, we build on a tradition of excellence and academic success, setting higher goals for ourselves and our students. We have many academic and arts clubs at our school to extend student learning. These clubs include Girls on the Run, Let Me Run, Battle of the Books, Math Olympiad, Spanish, Kindness Club and Lego Club, as well as clubs for art, fitness, golf, cheerleading and music. We also have leadership opportunities for students, which include a recycling club, Safety Patrol, TV studio support, and working with special-needs students, inviting you to participate in our school community as often as you can. Please remember to register as a CMS volunteer. All volunteers must register each year and select Grand Oak Elementary as the site. Please also remember to bring your ID to sign in upon entering the school as we are working diligently to keep our school safe.

Finally, I would like to tell you a little bit about me. I had the privilege of opening Grand Oak ten years ago. I am originally from western Pennsylvania and moved to North Carolina to become a teacher. I received my teaching degree from Clarion University of Pennsylvania and then earned my master's degree and an advanced degree from the University of North Carolina at Charlotte. Grand Oak is the third school where I have been principal; previously I led Elizabeth Traditional and J.V. Washam Elementary schools. In 2016 I was named the North Carolina Technology in Education Society Outstanding Leader for innovation and personalized learning.

My educational philosophy is centered around supporting and growing the whole child and being able to prepare students both socially/emotionally and academically to be well-rounded and successful citizens. We strive to set high expectations for students, create strong leaders and be innovative and fun in our practices. Our vision is to Collaborate, Innovate and Achieve. We expect this of our students and staff alike. As a principal, I am committed to providing the best education possible to each of our students and I believe that every child can succeed in school. Please feel free to reach out to me with any questions or concerns. I can be reached at

raymond.giovanelli@cms.k12.nc.us

or at 980-343-2063.I look forward to working with you to ensure that Grand Oak continues to offer a challenging, effective educational experience in a safe, happy atmosphere. Thank you for choosing Charlotte-Mecklenburg Schools and Grand Oak.