Return to Headlines
Students create, learn 21st-century skills through CMS digital media arts program
A few years ago, art teacher Melissa Leftwich didn't know a lot about digital media arts, but interest from her students at Jay M. Robinson Middle prompted her to learn more.
"Some of my students came to me and asked, 'Do you do any stop-motion animation? Does your art class work with iPads?'" Leftwich said. "I told them, 'Not yet, but I'll figure it out.'"
After a lot of research – and some tutoring from her students – Leftwich was able to launch the
Charlotte-Mecklenburg Schools middle school digital arts program at Jay M. Robinson in 2016. The program teaches critical 21st-century skills and offers students a new pathway to personal and professional opportunities. Combining emerging technology with art, it's used in areas such as filmmaking, game design and animation, web design and sound production.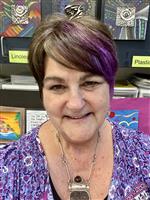 "These kids love it, and it isn't something they just do in the classroom. They do it on their own time," said Leftwich, who recently was named the Southeastern Region Middle Level Art Educator award from the National Art Education Association.
While Leftwich was working at the middle school level, Justin Pierce, CMS visual arts specialist, was starting a high school program at William Amos Hough High. He said the two worked together in 2018 to write the CMS digital media arts curriculum.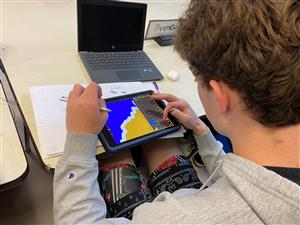 "We now have the program at 11 high schools and five middle schools," Pierce said. "The CMS Foundation and grant writing has allowed us to grow the program."
In a recent class, Leftwich's students worked diligently to create two-second animations using the app Procreate, which offers a range of tools and techniques, and combines images to look like an action moving smoothly across the page. Students are graded equally on their concepts, creativity, craftsmanship and classwork.
"I give them the background and elements to start with," Leftwich said. "What my job should be is to give them the foundation and let them take some risks and flourish. They like being challenged in this way and being able to take it in the direction that they want."
Leftwich said some of her students already had previous experience with digital art, while others joined at a beginner's level, but that they can learn an amazing number of skills in a short time.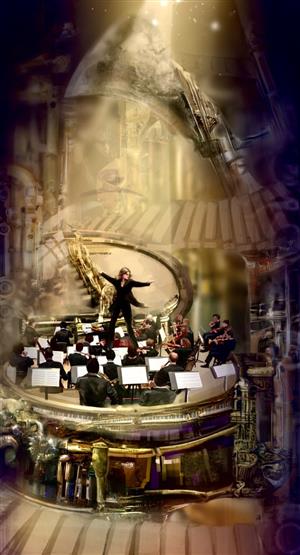 Eighth-grader Kathryn Wu has been taking art classes since she was 5 and has won multiple awards since coming to Jay M. Robinson this year, including two gold keys, three silver keys and an honorable mention in the 2023 Scholastic Art and Writing Awards. She was commissioned to create a piece of art that will be the basis of a music piece by a national composer. The music piece will be brought back to the school band to debut.
"At first, I was kind of intimidated by how much freedom I had because I was told I could do anything, as long as it was appropriate for school," Kathryn said. "It took a while for me to think of a concept that could be translated to music in a unique way. [Leftwich] helped me go through several drafts, and I did it on my phone, which I wouldn't say is harder but what I'm more used to."
Leftwich said making those complex decisions, taking risks, problem-solving and creative and critical thinking are 21st-century skills her students are learning every step of the way. She said they come to class excited, with a natural curiosity and great ideas.
"It's a great way of self-expression and an outlet to escape through when things are getting rough," said eighth-grader Nora AuBuchon. "Art is always there. You can just make something from nothing – it feels like a superpower."
Leftwich said her students have a great opportunity to study in the digital media arts program, which is gaining popularity in colleges and universities. Many budding digital artists opt to attend specialty programs, such as those at the Savannah College of Art and Design and Rhode Island School of Design.
"I really want all middle and high schools to offer this program," Leftwich said. "There are so many things they can do, and they love it. It's gaining popularity, so hopefully the spark takes hold. We're getting there."