Return to Headlines
CMS spreads interest in STEM through robotics
On a recent Tuesday afternoon, a buzz ran through a hall at J.M. Alexander Middle (JMA) as the school's two robotics teams prepared for competition. Team 21601 Robo Assassins was putting its robot through its paces – moving across the robotics mat, lifting a cone and attempting to drop it atop a raised pillar – while Team 21401 Axolotls huddled around its robot, analyzing a driving problem and swapping out parts.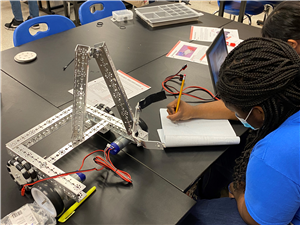 Eighth-grader Naomi Kpan of the Axolotls said it wasn't the first time the team had faced tire issues, but that it feels good when they fix a problem.
"There are struggles we have to go through," Naomi said, "but I wanted to be in robotics because I wanted to set a challenge for myself to see if I could build a robot from scratch, and we did. It looks like a robot, and it looks good."
Naomi is one of 16 students who joined JMA's robotics program when it began last fall. JMA, McClintock Middle, Northridge Middle and East Mecklenburg High were selected to start new teams in partnership with Queen City Robotics Alliance. Charlotte-Mecklenburg Schools has a long-standing history of having robotics teams in district schools; Olympic High has fielded its T-Rex team for at least 10 years with partner Bosch Rexroth.
Robotics programs are popular because the strategies involved encourage interest in STEM (science, technology, engineering and mathematics) and help students develop skills for jobs of the future. Working with a team builds cooperation, communication, creative thinking and problem-solving – critical skills students need for school, as well as for work and life.
"Our FIRST Tech Challenge team is an after-school program," said STEM teacher Alicia Moss, who coaches the JMA robotics teams with fellow teachers Jessica Garris-Wilson (JMA) and Karen Kyei-Fordjour (Hough High). "Students get to design, build, code and compete. They are also interviewed by the judges and must explain their engineering portfolio and outreach initiatives."
Students are guided by expert mentors in each area and get to choose their areas of focus. Neena George, a seventh-grader, said she has two main jobs as a member of the Robo Assassins.
"I'm a coder and a designer, but sometimes i might get involved in building," Neena said. "In elementary school, they exposed me to coding, and I loved it, so I've been building on things I already knew."
On Jan. 14, the JMA hosted the FIRST Tech Challenge qualifying event, where 20 teams from across the state competed. Team 21401 Axolotls made it to the semifinals round and won the Judges Award, and again made the semifinals at the Asheville qualifying event Feb. 4.
The JMA teams have been able to grasp as much as they have, despite limited experience, because of what Moss calls "gracious professionalism."
"This competitive platform is unique because it fosters support and collaboration among different teams," she said. "When our team had problems, we reached out on Discord. Within minutes, we had teams all over North Carolina wanting to help us. This creates a safe space to learn and grow.
"That's what makes the entryway into robotics amazing because you're going to be supported at every level," Moss said. "That's the beauty of it."